Lovely warm, woolen and comfortable fisherman jumpers. But they are not 'just' jumpers. Our fisherman jumpers have authentic patterns. The same patterns that were on the jumpers that were once worn by fishermen in Moddergat and Wierum!

The woolen jumpers are handmade by our enthusiastic volunteers. The jumpers are made of Waddenwool®: wool from sheep that graze on the embankments along the North-East Frisian coast, spun and dyed in the region and knitted by local volunteers. t Fiskershúske also offers sweaters that are made from high quality factory wool. 

About the fisherman's jumpers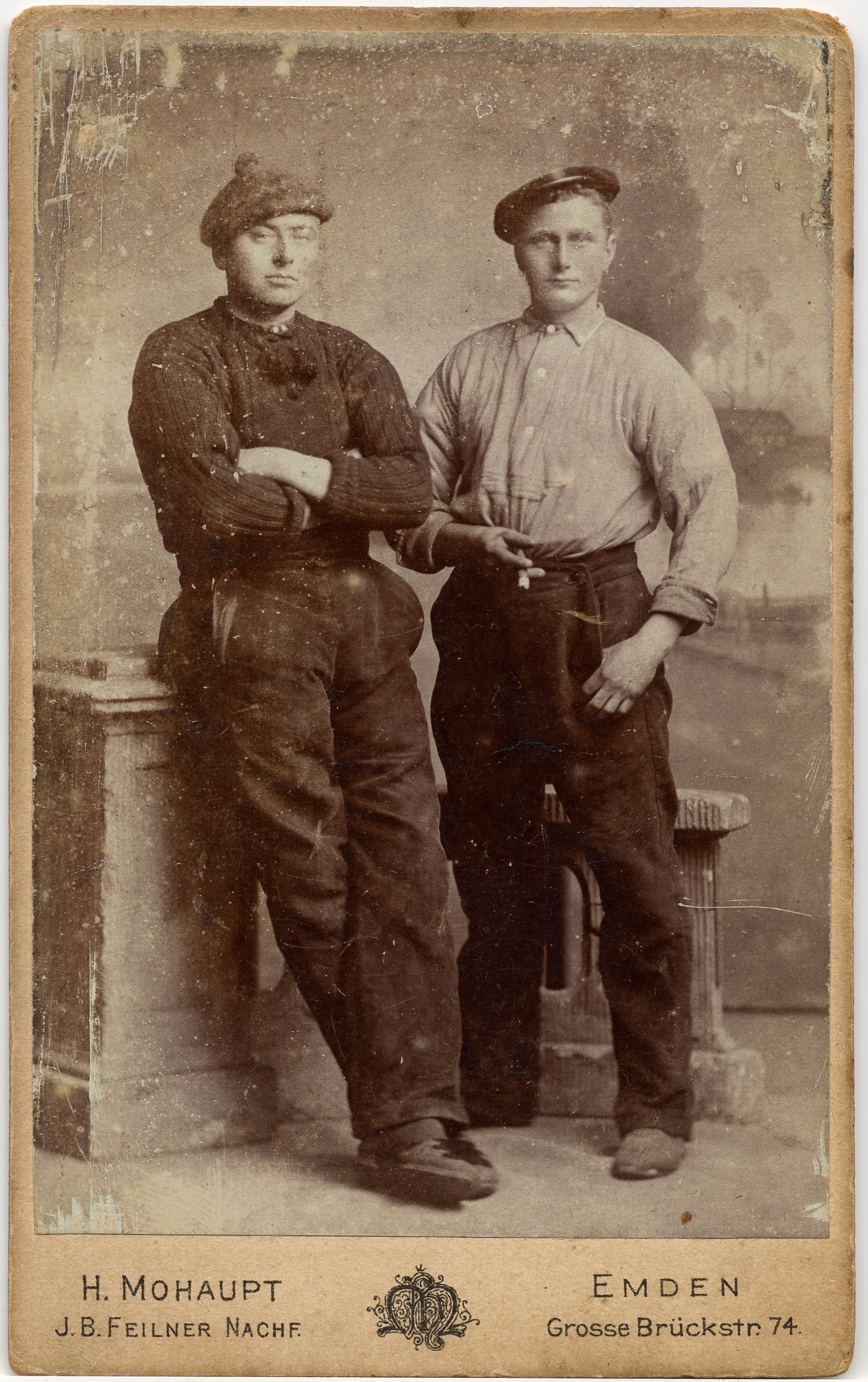 1. Moddergat, Jitze van de Lei
The design of this fisherman's sweater is based upon the jumper which Jitze van der Lei from the Frisian fishing village Moddergat is wearing in a picture from circa 1900. the picture was taken at a photo studio in Emden.

The jumper has a special Gods Eye motif, which is repeated along a central band. Cables and thunderbolts fill the rest of the front and back. The sleeves have a rib design.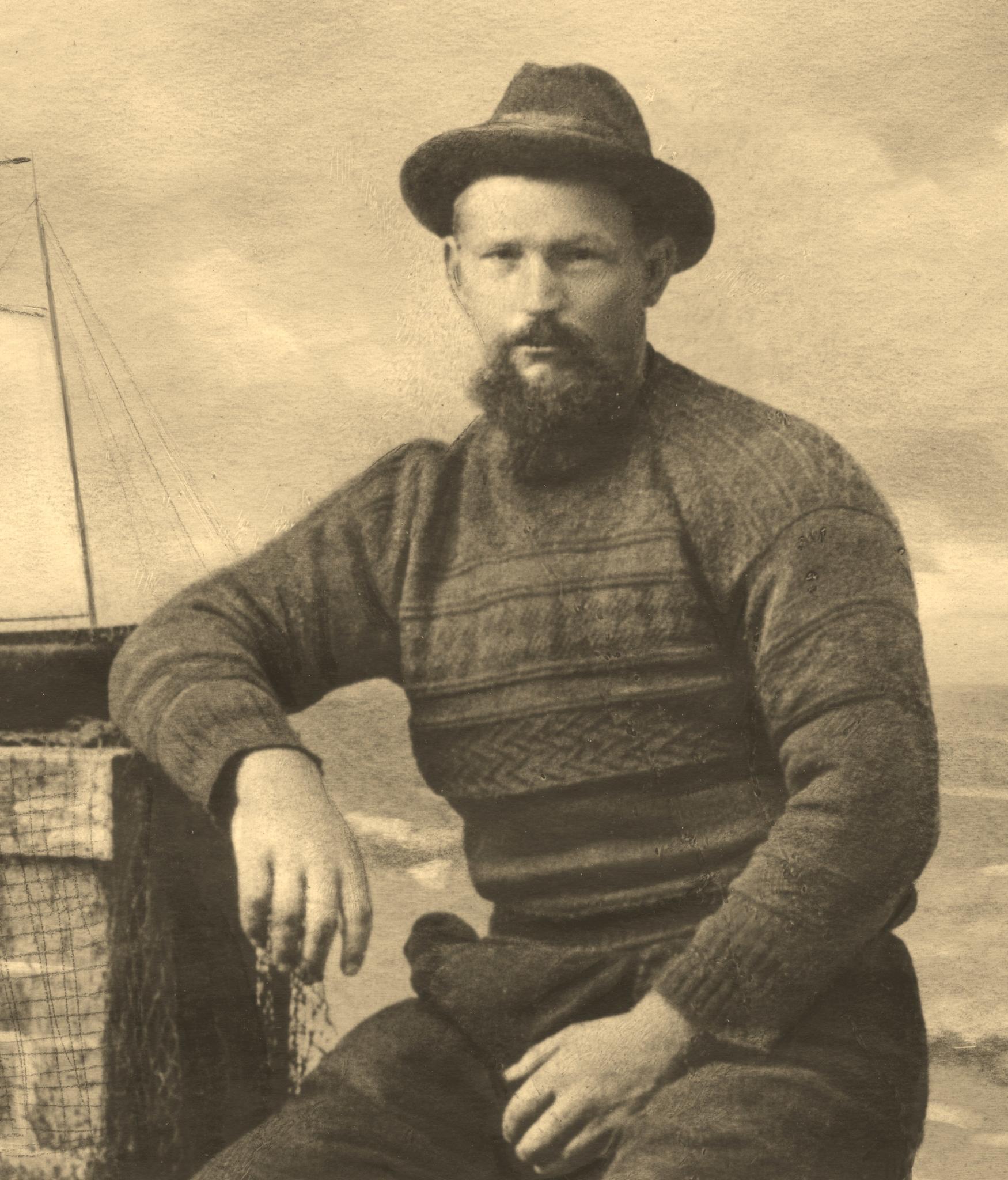 2. Wierum, Jacob Akkerman
This design on Jacob Akkerman's sweater was discovered in 2014. Jacob Akkerman (1866-1921) was a descendant from an old fishing family from Wierum in Friesland. Jacob was photographed while he was on a fishing trip. The photo currently hangs in the home of Jacob's grandson.

Renske - an experienced knitter  and the granddaughter of Jacob- knitted an exact copy of the jumper for 't Fiskershúske museum.

Fisherman's hats
In the photo of Jitze van der Lei you can see that he is also wearing a characteristic fisherman's hat. The fisherman's hat is also available for purchase! The hats are hand knitted by our volunteers and have a striking zigzag pattern and a pompom. 


Ordering 
Knitting an authentic fisherman jumper is an artisan process. That is why it takes between 4 to 8 weeks before a sweater is knitted. The project is supported and run by a relatively small group of volunteers. As a result it can happen that a particular jumper or hat is sold out. We will contact you if a product is sold out and offer you a custom sweater. You will have the advantage of being able to state your preferences concerning e.g., the neckline, border and sleeves, and all for the same price!

Do you have any questions?
Please feel free to contact museum 's Fiskershúske in Moddergat;
www.museummoddergat.nl
[email protected]
0519-589 454. 

Volunteers wanted!
Fisherman Sweaters from Waddenwol is carried by its passionate volunteers. Are you also enthusiastic about this project? And would you like to contribute by knitting a fisherman's jumper or fisherman's hat for a volunteers fee?, Then contact Jacob Bosma at 't Fiskershúske museum: [email protected] or call +31 0519 589 454.

Thank you knitters and spinners:
Trix, Joke, Aukje, Renske, Anneke, Everd, Ellie, Alie, Janke, Bartje, Fieke, Anke, Greet, Wivian en Ellie!

The photo's on this website where made by Cees Booij and Kim Loesberg. The models are: Taede, Jan, Carlijn, Jinte, Ellen, Wietske, Janet, Hillie, Jan, Neeltje, Saakje, Bart, Xavier, Wouter and zeilcharter 'De Vriendschap'.